Recently I went to a vegan exposition where I live because my vegan girl friend told me there were some really tasty and healthy organic vegan desserts from New Zealand at the expo. Since it was the last day of the expo when I went and I got there a bit late, I was able to get some raw vegan dessert with a pretty good price.:D
I tasted four desserts and thought they were all delicious! Maybe I should make a review of them all after this post? Would you like that? *Let me know at the comments* One thing about these raw vegan snacks is that they are actually very easy to make because they are supposed to be whole food with as little addictive as possible meaning the ingredient list would be short and everything the company can do I can so at home:D So I decided to look at their ingredient lists and try my luck!
Below we have the ingredient list for the white caocao macaroon. I think it is the tastiest of them all if you want a fresh feeling dessert! Otherwise, if you would like something more rich and filling, the chocolate macaroon would be your choice. I chose to do the macaroons because they are like balls that I can roll up while the cookies would definitely require a dehydrator for a great texture (or you can bake them if you are not doing raw) My dehydrator was taken away from me but hey I might not be doing raw snacks at all if I needed to use a dehydrator cause it would be quite a lot of work!
So looking at the ingredients list, there are actually 9 ingredients in total all of which I can obtain. However, it is still too complicated for a snack so I tried to further cross out some of the ingredients to see if I can get away with doing that and still produce a tasty enough snack. So here is what I have decided to keep for the final ingredient list at the end: (!! Please adjust the portion yourself. I only eyeballed the approximate amount. !!)
RV Organic GF coconut flour (or shreds if you want to have more texture): 250 g – 300 g
Dried Organic stevia leaves / Your choice of sweetener (dried dates, coconut sugar,etc): 7 big leaves for me could be more for you 🙂
Organic freshly made orange puree: 2 oranges (You can add a little bit water for easier blending) (Use more if you have small oranges)
Organic freshly made lemon juice: Half a lemon (Use more if you want more zest)
Freeze fried boysenberries: 4 pieces (or any freeze dried berries you like)
Now the original ingredient list requires salt as well and everyone should have it in their pantry so if you think you would get a better result with it you can add some to taste too. However, I was happy with the final product's flavor and as you know me I do not like to eat any salt at all so I left it out.
Same tools as every ball recipe I provide! B.S.B. –> (NOT BackStreet Bots!!!) Blender. Spoon. Bowl.
Blender. Spoon. Bowl.
Blender. Spoon. Bowl. 😀
Blend the Stevia leaves with the coconut flour to sweeten it and taste to see if there is enough sweetness. If not, add more leaves.
Pour our the mixture into a big bowl and put orange flesh and lemon juice inside the blender for blending (add water if needed until there is enough sweet liquid for mixing with the coconut flour mixture)
transfer the orange lemon puree into the bowl with the coconut mixture and starts mixing
Put the boysenberries into the mixture and crush them with a spoon into small pieces for extra zesty flavour and texture
Mix everything well and start rolling them into balls
Place them into the fridge or freezer depending on how hard you want them to be.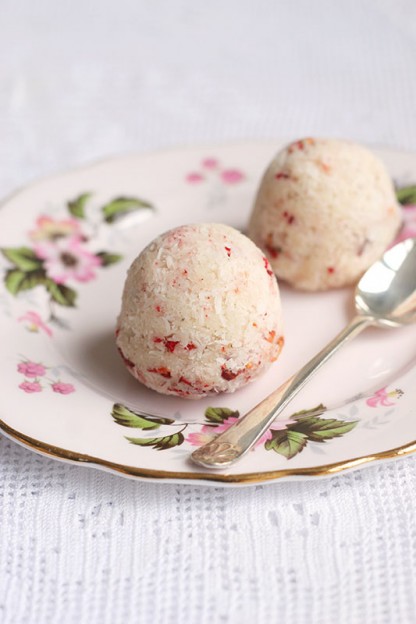 Now the flavour is different from that of the original product but resembles it. The reason is obvious because I used a sweetener that is not as rich and I did not use vanilla beans nor caocao butter to enhance the taste and richness. However, this version is still a delightful refreshing snacks which is a TON more economical, and honestly healthier in my opinion because I still feel burns on my chest when I eat anything with raw agave which is a sign of eating some degree of cooked sugar for me which would lead to pimples eventually if I eat enough of it. So health and rawness wise I definitely believe my version is better. Definitely try this recipe out, add your twist if you would like to and tell me how you like it!!
Go to my Instagram to compare my version of final product to this one above which is the original product photo taken with all the Photoshop and food photography skills I don't have !
If you like this recipe, make sure to check out my recipe of Sesame Calcium Balls too!
I wish you all good health and true happiness:D!